Kitchen Remodeling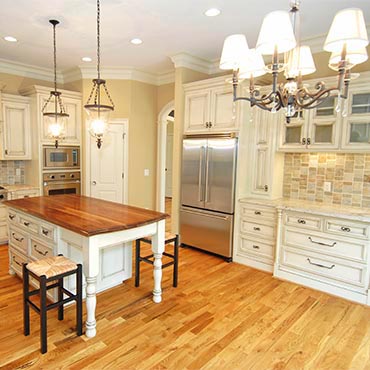 The Kitchen is the Heart of the Home
As the 'heart of the home', your kitchen has a remarkable influence on your every day comfort and lifestyle. Over the several decades, the kitchen has evolved from a purely functional room to being the social hub of your daily life. Ask anyone what they're looking for in a home and chances are good 'a fantastic kitchen' is at the top of the list. Bay Tile Kitchen & Bath can bring a great kitchen to life!
Peace of Mind
As a homeowner you want peace of mind when it comes to your home. Your kitchen should be a retreat away from the everyday pressures of the world. That is why your kitchen renovation should be in the hands of a skilled and experienced kitchen remodeling company. Bay Tile Kitchen & Bath's attention to detail and excellent professional service will not only provide you with an ease of mind but also create a fresh and relaxing kitchen that is designed with craftsmanship and skill, along with budget friendly prices and timely construction. We pledge that your kitchen renovation will create minimal disruption to you and your family.
Selling your Home
 If you are selling a home, the kitchen can make or break a closing. Homebuyers are looking for key areas of the home that don't require a major overhaul, which is why a kitchen renovation can make a huge impact on your home's resale value. Giving the décor of your kitchen a boost doesn't require a chunk of money or space -- just a little forethought and a few kitchen ideas. Think about what homebuyers might be looking for. Today, homebuyers don't want an ordinary kitchen but a relaxing retreat; custom cabinetry and stainless steel appliences are popular, while granite countertops and more kitchen storage are also frequently mentioned. Bay Tile Kitchen & Bath can bring your ideas to life!
Budget
The best place to start with any kitchen remodeling project is the budget. Not only will it assist you set the limits of your design for your kitchen renovation, but it will be a major criteria on the type of materials you select. Knowing your budget will allow you to know what is capable of being accomplished allowing you to get creative!
Bay Tile Kitchen & Bath  provides:
Competitive Prices
 On-time, On-budget Project Completion
 Expert Attention to Detail
 100% Guaranteed Workmanship
 High Standards of Material Quality
Before You Select a Contractor
Bay Tile Kitchen & Bath will work with-in your budget and give you the best possible solutions to your kitchen remodeling requests. We understand that beginning of a home remodeling project can be a stressful undertaking. That's why Bay Tile Kitchen & Bath invites you to give us a call and find out how straightforward, hassle-free and affordable employing a professional kitchen remodeling company can be. To make the most of your visit, prepare a list of your interior design preferences, practical needs, and budgetary considerations so your kitchen remodeling consultant can save you time by directing you to the best options available. We look forward to serving you!
Serving: Clearwater, Palm Harbor, Safety Harbor, Oldsmar, Ozona, Clearwater Beach, Redington Shores, Madeira Beach, Sand Key, Belleair Bluffs, West Chase and Tarpon Springs.