Tiles That Look Like Wood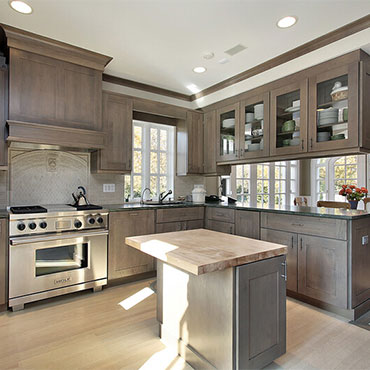 Like the appearance of real hardwood flooring? Recreate this enduring traditional style with tile that looks like wood flooring. There's a lot to like about hardwood flooring, but there may be times when a wood-look tile flooring may be the right choice for your project. Wood look tile is a floor covering designed to closely mimic the wood grains, natural colors and even textures found in real hardwood flooring, such as pine, maple, and cherry. Some flooring designs even mimic the appearance of reclaimed hardwood.
You can find tiles in various shapes and sizes. Plank-shaped tiles are popular, and some come in mixed widths for a more authentic appearance. Wood floor tiles come in a wide selection of colors. Although, black, white and grey are also available. Or select from random shade variations for a truly exceptional look.
Because ceramic and porcelain tile stands up to scratches, stains, spills, and everyday wear and tear, it is perfect for areas with lots of foot traffic and households with active families and pets. Since wood flooring is not recommended for areas prone to moisture, like bathrooms, mudrooms, basements, and laundry rooms, you might opt for a tile floor that achieves the same look. A wood look tile is a suitable alternative and an excellent choice for these areas because they are 100% waterproof and will not swell, buckle or lose integrity.
Homeowners choose tile designed to look like hardwood because of the ageless style of wood flooring and how well hardwood harmonizes with almost any décor of the home. But the best part of tile is that it is incredibly easy to care for. These floors repel soil and spills, so just a quick wipe-up or a sweep and mop is usually all you need to do.
Why Buy Floor Tile Flooring From Bay Tile Kitchen & Bath?
Whatever your choice of floor tiles, you'll find Bay Tile Kitchen & Bath has the best selection at the best prices. We will help you select the right floor tile to raise the decorative and financial values of your home or property. Our quality lines of floor tile are made with durability in mind, as well as their decorative benefits, you're getting floor tiles that you can trust for a long time.
Serving: Clearwater, Palm Harbor, Safety Harbor, Oldsmar, Ozona, Clearwater Beach, Redington Shores, Madeira Beach, Sand Key, Belleair Bluffs, West Chase and Tarpon Springs.