Glass Tile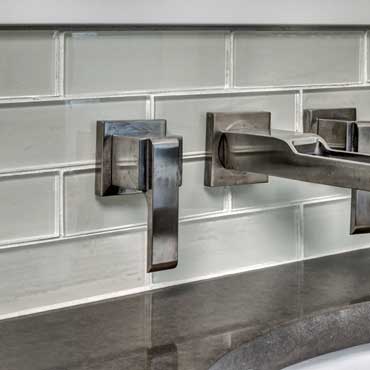 Glass tiles offer a distinctive look unachievable with conventional mosaic tiles. Their depth of color and vibrancy combined with the reflective characteristic of glass produce spectacular and unique effects. Bay Tile Kitchen & Bath is the Clearwater, FL premier source for mosaic glass tile. Stop by our store in Clearwater, FL to see our large variety of tile samples, and enjoy a free consultation with one of our tile experts. We're looking forward to serving you!
Why Choose Mosaic Glass Tile?
Tile made of glass is best known for its beauty and longevity. There are many other benefits to glass tile, including:
Versatile and Attractive
Glass tiles can be used in an unlimited range of applications: bath and kitchen backsplashes, mosaic floor and wall design, pools, spas, waterfalls, and any applications you can imagine. Looking for something to dress up a kitchen or bath? With effective use of lighting, glass mosaic tiles can turn the most undesirable of areas into glittering and eye-catching works of art.
 Indoor and outdoor use.
Mosaic glass tiles are not only great-looking, but durable and impenetrable as well; suitable for both indoor and outside applications. Glass tile is harder and denser than other tile options, which makes it frost-resistant and sometimes even frost-proof. The are also impervious to sunlight and water. Because they cannot be breached by liquids, they are ideal for places that get wet often, such as kitchens and bathrooms. Our selection of glass tile is made of the highest quality yet is affordable.
Easy maintenance.
There's no need for special cleaning processes to maintain tiles made of glass. They withstand heavy use and maintain their shine with minimal upkeep. Glass tiles are easy to clean, maintain, and they never discolor, making them perfect for a tile backsplash or other high-use areas. Just clean with a wet cloth and they will continue to keep their dazzling appearance for many years to come.
 Installing Mosaic Glass Tiles
To get the most out of your glass tile investment, consult a tile installation company to skillfully measure and install your new tile. To learn more about how glass tiles can work for your project, contact the experts at Bay Tile Kitchen & Bath or stop by our showroom in Clearwater, FL for a free consultation!
 Browse our Showroom
With mosaic glass tiles in a variety of colors and sizes, Bay Tile Kitchen & Bath has something for everyone. Looking for a decorative glass mosaic tile for your bathroom walls and floors, or glass tile for your swimming pool? We have it all. Browse our great selection glass mosaic tile and other tile design ideas! Come to visit us in our store and see it for yourself.
Serving: Clearwater, Palm Harbor, Safety Harbor, Oldsmar, Ozona, Clearwater Beach, Redington Shores, Madeira Beach, Sand Key, Belleair Bluffs, West Chase and Tarpon Springs.